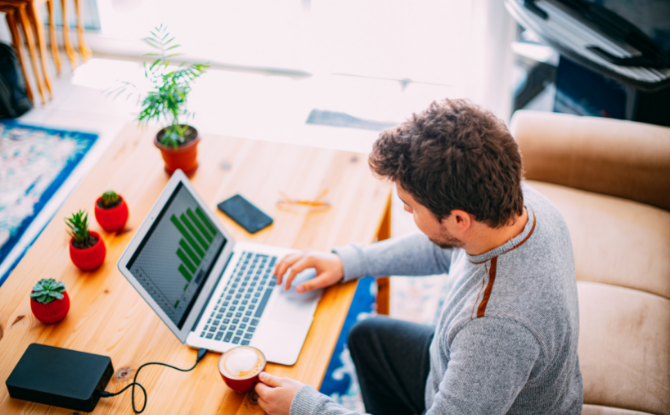 Managing risk when working from home
It's no surprise that moving between an office, site, and home working location has its benefits for employees. Flexibility and increased autonomy can improve mental wellbeing, which helps to increase staff productivity and retention.
This type of hybrid work model started to become popular in recent years, with some employers embracing this new way of working, whilst others were more cautious. But once the pandemic hit, employers who had not supported the model, and those who simply rejected it, were forced to be more flexible.
A new way of working
Now, post pandemic, many employers are considering long term hybrid work models due to their benefits. To preserve the full benefits of the hybrid model, it's important for organisations and individuals to make sure that the work from a home environment is as safe as working from the office or worksite.
When working on a site, in an office or in a public space, safety inspections and audits are part of the way we work. While sometimes they can be tedious, they always have a purpose. Few would disagree that it's better to discover a safety risk as part of an inspection, rather than after an employee is injured.
So, does an employee's private residence count as a workplace if they are conducting work there? The answer is yes! And if an employee is injured in their home whilst conducting work, it's considered a workplace injury.
Because of this, organisations need to ensure they have systems in place to identify and assess hazards in a home work environment. They then need to implement risk controls and review them, the same as for any other hazard. To do this, organisations need to ensure their employees complete regular safety checks in their own home environment, just as they would complete a regular safety check in a traditional workplace.
Resources for employers
Business Victoria has created a helpful template to help you get started on the type of hazards that need to be considered and made safe: Working from home safety and wellbeing checklist | Business Victoria
It's also important to set aside regular check in time with employees who are working from home. Managers or supervisors may not have regular face to face contact with these individuals which can make it much more difficult to know when something isn't quite right and when to provide further support. So make it a date!
Lastly, if a home work environment is unsafe for operational or personal reasons, it's important to provide another work location. No matter the source of the risk, if it effects the employee during their work hours, it is a workplace hazard.
Here are a few more resources to help you navigate the risks safely, so that everyone can have the flexibility that works for them post pandemic.
Managing risks | Safe Work Australia
Minimising the spread of COVID-19: Working from home – WorkSafe
Health and safety for working from home | WorkSafe.qld.gov.au