Not confident where to start with OHS? Don't have the budget to employ a full-time OHS resource?
Our Small Business OHS Advisory and Support packages have been established for you.
We know that small businesses are the lifeblood of the Australian workforce. We see the effort, the passion and your willingness to do the best for your workers and customers. We also appreciate the "behind the scenes work" that is required to maintain an effective and legal compliant small business – the ATO, Fair Work Australia, not to mention your WorkSafe and WorkCover obligations. And it's for this reason we established our Small Business OHS Support Program.
This program has been designed to support employers ensure that their workers go home each day, in similar health, if not better than when they arrived. This offering provides strategic OHS direction and will guide your business how to effectively deliver the safety function internally and identify how OHS can become part of your business as usual.
Established for Victorian-based businesses, our experienced OHS Consultants will initially complete a Discovery OHS Audit with you, to: (1) understand your business, (2) to evaluate legislative non-conformances, and (3) ensure that the OHS support we provide through the Small Business OHS Support Program has been aligned to address your operations.
If you're operating outside of Victoria, that won't deter us, please contact us and we can discuss how we have extended the program to our NSW and QLD clients with some minor delivery tweaks.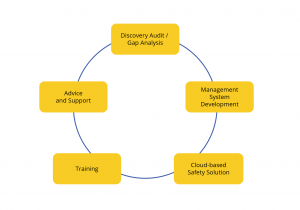 Following the Discovery OHS Audit, you will be provided with a Safety Action Plan that will provide detailed steps on how your businesses can meet its legal duties and support you to have safe and healthy working environment.
What is included in our Small Business OHS Advisory and Support Program:
Annual OHS Discovery Audit / Gap Analysis
Telephone and Email Advisory OHS Support
Coaching post workplace incident, or workers compensation claim lodgement
Access to leading OHS Management System Software: Safety Champion Software
Access to OHS Templates – including Manual, Policies and Procedures that you can edit
Complimentary tickets to our OHS Training Calendar – this includes tickets to individual training sessions valued more than $1,000; and training delivered by leading OHS Lawyers and Barrister
Package dependant, support may also include:
Establishment of an internal OHS Hazards and Risk Register [legal requirement]
Onsite Support Visits
Quarterly OHS Coaching Meetings
Annual OHS Strategic Planning/Support
Choose your OHS Support Package
MICRO
For Business Size
1 - 10
SMALL
For Business Size
11 - 25
For Business size 11 - 25
GROWING
For Business Size
26 - 50
For Business size 26 - 50
All prices are excluding GST and shown in AUD
Simply put, we make safety easier and more accessible to all people. We are cost-effective, and we work alongside you to understand your business to build a safe workplace together.
Whether it's advice or guidance, training, or OHS Management System support; Action OHS Consulting has a Small Business OHS Support Package that will suit any small business on their OHS journey.
---
Interested? Arrange to speak with a consultant today.